Thank you to the Chinet® brand for sponsoring this post.
Now that spring has officially sprung (even though it's still not quite reached us here in Montana…), what better way to welcome in the new season than to invite some friends over to celebrate! Throw a spring get together without the headache using a self-serve beverage station! (I'm all for things that make my job as hostess easier 🙂 ) These easy tips will help you create a beautiful setting that your guests will love!
1. Keep it Simple
Whether you're having a party for 5 or 50, throwing together a beverage station with a few options makes it easier on everyone. The self-serve option lets your guests grab whatever they need and makes you seem like the hostess with the most-ess! 😉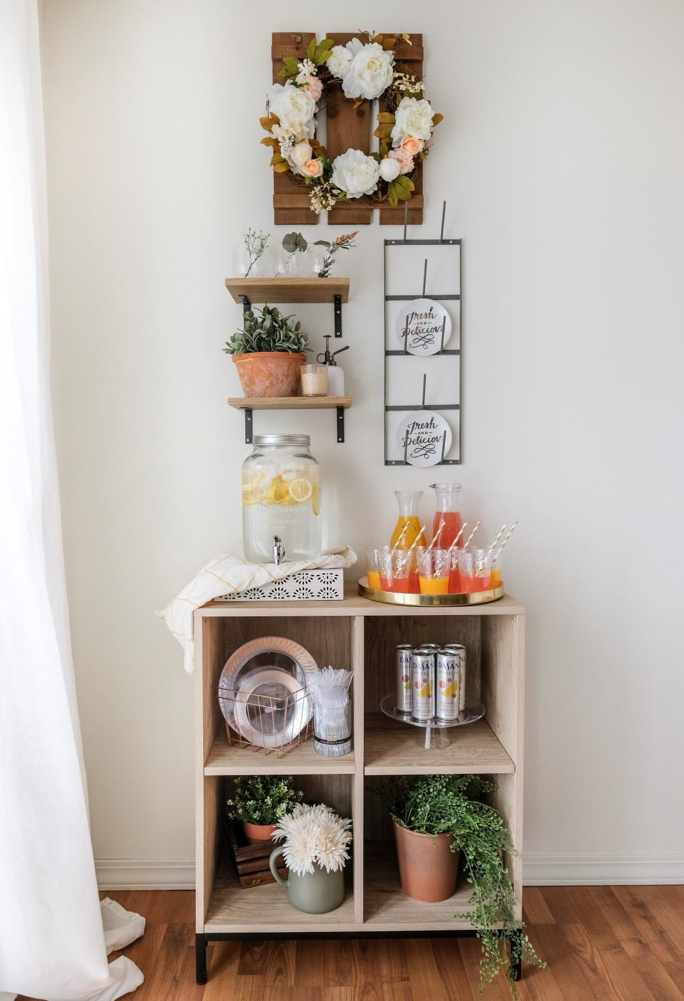 Click the image above to shop!
My favorite picks? Lemon-infused water, fruit juices and flavored sparkling water. Remember, keep it simple!
2. Opt for Disposable
Want to spend a lot less time doing dishes after the party's over? Try using Chinet® Cut Crystal® products to make serving and cleanup easy, so you can spend more time with friends and family. The Chinet Cut Crystal collection is the only fully coordinated line of disposable tableware which keeps your setup looking seamlessly beautiful (without breaking out the fine China). Yes, please!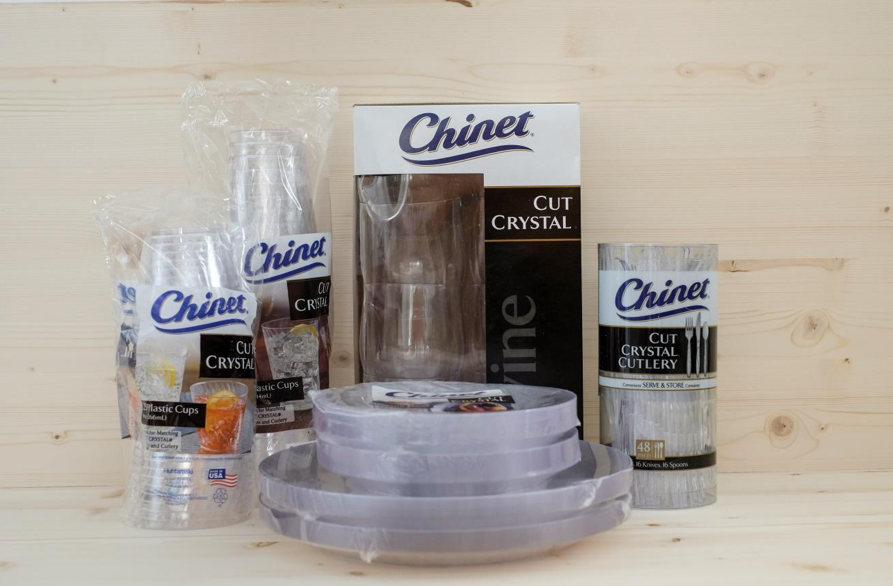 Click the image above to shop!
I particularly love that the cutlery comes in a "host-ready" container perfect for easy serving and storage. Speaking of easy, use things like wire crates or woven bins to house extra plates. Functional decor for the win!
(Learn more about the convenient and elegant Chinet® Cut Crystal® collection by clicking here!)
3. Bring the Outside In
     Florals & Greenery
What's a spring party without some pretty blooms and lots of greenery? Since the spring season in Montana has a lot more snow than actual blooms (boo!), I opted for some artificial florals from our local Micahael's store. This cute wreath mounted on wood planks was one of my favorite finds!
When it comes to greenery, if ya ask me, faux is the way to go! There are lots of realistic-looking options available and the best part is – it lasts forever!
Keep this decor up all season, long after your spring gathering is over, and it will still look just as fresh!
(Do you live somewhere other than the arctic tundra? Here's a quick tip – stick to seasonal arrangements from the farmer's market or another local vendor to ensure your party's blooms are ultra fresh.)
     Garden Classics
I love the classic look of terra cotta pots and decided to use a few to house some of my artificial greenery. These fired clay pieces, in their familiar earthy-orange hue, have been used in gardens for years. Their unique texture offers a rustic chic take on a spring decor.
The cute little garden spritzer was a Target find and adds a playful touch to the shelf decor.
4. Make Your Own Cake Stands
Looking for a fun way to display some extra drink options or small treats? You can easily make your own stands using Chinet Cut Crystal products! No need for fancy porcelain or wood cake stands for this laid-back spring affair.
Below is a quick tutorial on how I whipped up a simple stand using two Chinet Cut Crystal dinner plates and one Chinet Cut Crystal 9oz cup. The whole thing took me less than a minute to make!
Using super glue, apply a small amount to the outer rim on the bottom of the 9oz cup. Then set upside down on a flat surface, and place the dinner plate on top. Apply pressure until glue has dried. (To make the stand sturdier, use 1 or 2 additional plates. I used 2 plates for my stand and it worked great.)
The clear design and elegant swirl pattern of the Chinet Cut Crystal products perfectly match any theme or decor and make a great choice for this crafty DIY stand. Since the entire Chinet Cut Crystal line is made of premium plastic, the stand is quite sturdy! (Tip: Add a second layer to create a tiered look!)
5. Think Outside the Box
After making my own DIY stand, I was inspired to get a little creative with the beautiful Chinet Cut Crystal stemless wine glasses. Stemless wine glasses are so trendy right now and I was excited to find the Chinet® brand offering them in their Chinet Cut Crystal line. Instead of filling these cuties up with wine, I decided to use them as vases instead!
I took two sprigs of artificial florals and one dried eucalyptus stem and placed them each into a glass. The simple stems between a few smaller "vases" offer an elegant yet effortless look.
There are so many things to look forward to when the weather gets warmer and the trees begin to blossom. I hope these simple tips inspire you to open up your home to friends and loved ones to welcome the beautiful spring season!
Happy hosting, friends!
For more spring inspiration, checkout my post 5 Tips for Getting Your Home Ready for Spring next!
I was selected for this opportunity as a member of CLEVER and the content and opinions expressed here are all my own. Chinet® and Cut Crystal® are registered trademarks of Huhtamaki, Inc. in the U.S. and other countries.